When it comes to enhancing the beauty of functionality of your staircase, choosing the right material is important. Hardwood is timeless, luxurious, and warm, making it one of the most sought looks in your home. 
What is staircase refinishing?
Staircase refinishing hardwood stairs calls for the same process as refinishing used on standard hardwood flooring. However, the process involves small-scale techniques and handheld equipment for greater precision. Over time your hardwood stairs can get worn and scratched. When your staircase has faded or showing signs of fading, it should be refinished. When refinishing staircases, we follow these steps:
Prepping

– Removing any carpet that lines the staircase and clearing the area around the staircase for easy access.

Stripping

– Striping the stain from the treads.

Sanding

– Removing the top layer of the original finish and color.

Staining

– Applying the new coat of stain you have chosen.

Sealing

– After the stain has dried, we apply a coat of sealant to fix the color.

Finishing

– After the sealant has dried, we apply a premium finish to add the desired luster. Once dried, we follow with buffing the surface, trim installation, cleanup, and application of the last coat of finish.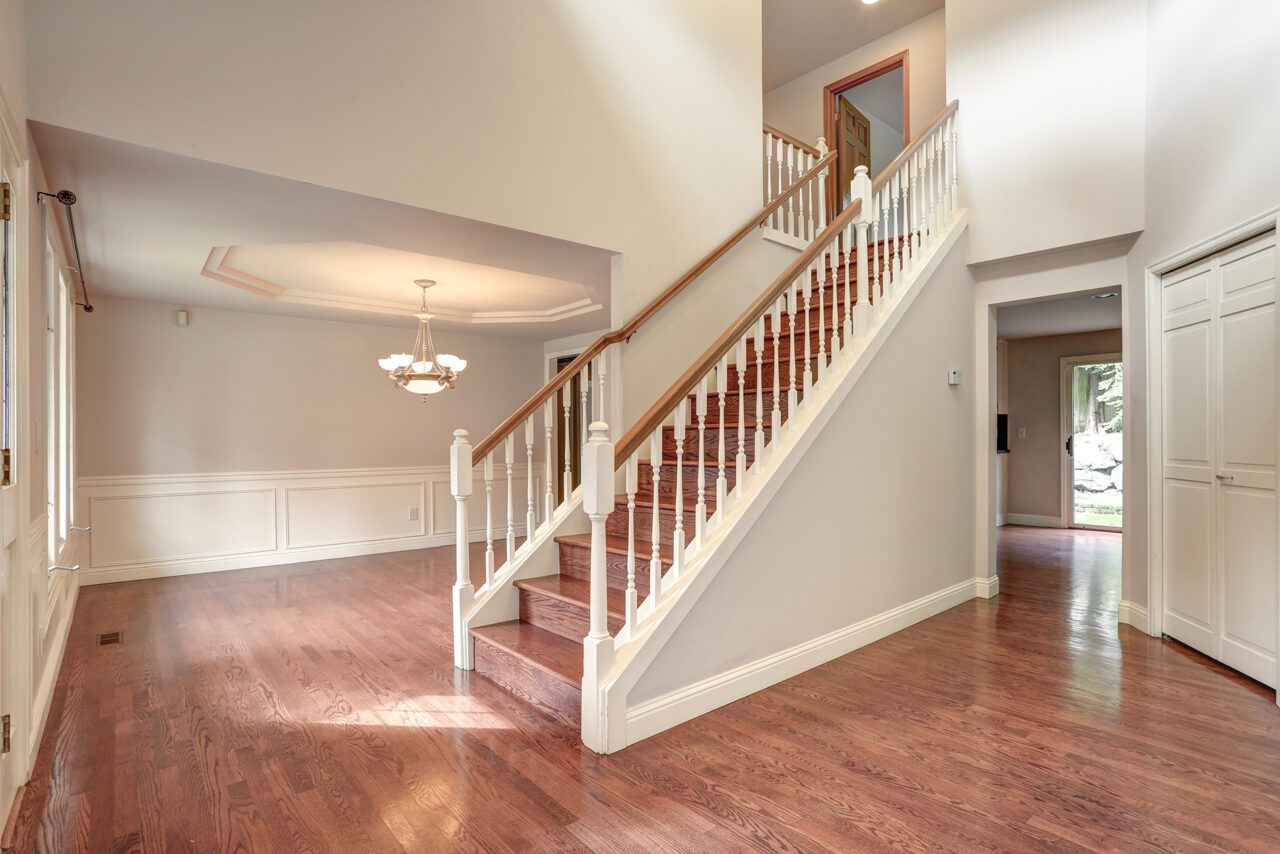 What are the benefits?
Hardwood flooring adds value to your home, and the same goes for having hardwood stairs. Hardwoods are durable and long-lasting and offer a number of benefits of having them.
Offers guests a first great impression of your home

 
Their timeless good looks never go out of style, and the carpet may not always match. With many arrays of species, grades, colors, and stains, you are sure to find a type to match your style and blend with the interior design of your home. 
Hardwood is environmentally friendly
Hardwood is a natural and eco-friendly material, suitable for those with common allergies, asthma, eczema, and rhinitis, giving you a safer, healthier environment.
Hardwood staircases are high-quality, they are tough, hard-wearing, last longing, and can withstand heavy foot traffic. 
Hardwood only needs a light, regular sweeping, and occasional mopping. 
Why should you hire a professional?
Refinishing staircases requires a lot of details, manual work, and other costs to factor in. These costs include:
Carpet removal and disposal

Removing staples from the flooring
Cleaning the area
Providing an easy access way for others to use
The process of refinishing stairs is normally all done by hand, which is why it is a time-intensive task. For this reason, it is best to hire a professional to refinish your staircases.
Whether you are planning to sell your property, are tired of old stairs, or simply want to add a little luxury to your home, refinishing your staircase is a perfect choice. 
D&M Hardwood Flooring employs experts in professional staircase refinishing to meet the needs of clients throughout Rhode Island. We also offer high-quality hardwood flooring installations, vinyl, and laminate flooring installations, and deck refinishing, or you may just need a refreshed appearance on your current floors. Contact D&M Hardwood flooring at (401) 855-wood to learn more about our services.