Recently composite decks have been popular due to their low need for maintenance and long life. Unfortunately for composite deck lovers, wooden decks still hold a lot of their natural charm. How much harder is it to care for a wooden deck? 
Common Problems With Wooden Decks
What are some common problems with wooden decks? Wooden decks are an organic material, making them far less resistant to the elements as something manufactured. Why does that matter? Your deck remains outside 100% of the time, regardless of weather conditions. There is no way to bring a deck inside without taking the entire thing down. Okay, and? Weather can affect decks in a variety of ways. Head and cold cause the wood to expand and contract, which can make it crack. Rain can seep through stain and cause rot over time. Ice can get between small cracks in wood and cause them to crack further. Storms with high wind and debris can scratch paint off. 
If you don't maintain your deck well, you will be forced to replace it or take it down as the wood begins to fall apart.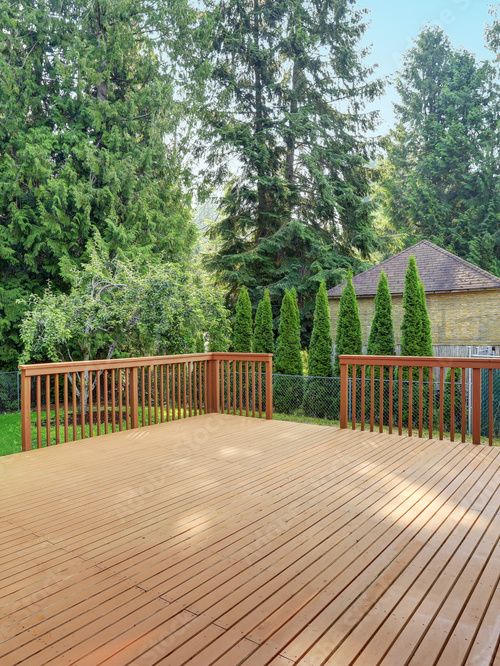 How To Prevent Deck Wear and Tear
As scary as the weather sounds to a wooden deck, there are ways to protect your deck from damage. 
Coating your deck with stain helps to seal the deck from the elements. Sealing generally makes wood a little more resistant to water, as well as bringing out the natural colors of the wood better. You can also paint your deck to achieve a similar effect, though you won't see the natural wood color. 
Deck refinishing is a great way to "reset" your deck. When refinishing a deck, you sand down the top layer of the wood and reseal it. If your deck is worn down, but not in bad condition, refinishing helps work out the imperfections and gives you a fresh seal to work with.
If a board begins to rot or crack, it's best to replace it as soon as you can. When one board begins to crack or rot, you should inspect your entire deck to ensure that no other boards are showing signs of wear. The earlier you catch it, the better.
What If Your Deck Does Wear Out
If your deck does happen to wear out, we recommend deck refinishing. The first step in a deck refinishing is to clean the deck. This will remove any dirt and grime on the surface that can potentially damage the quality of your stain. A deck needs to be sanded during the refinishing process. This helps to remove any shallow scratches or dents in the surface in addition to smoothing it out. Once the deck is cleaned and sanded, you're ready to stain. Stain with a brush to ensure that all of the nooks and crannies are stained well.
Alternatively, contact D&M Hardwood Flooring and let us do the hard work for you! We offer deck refinishing as well as hardwood floor installation and staircase refinishing. You can call us at (401) 304-6530 or visit our website here.